Mercantile Building Fire in

Historic Downtown Bastrop, Texas


May 13, 2003
The Texas Mercantile building in the historic downtown of Bastrop was ravaged by fire this morning. The building was home to many small shops and was one of the anchors for businesses in the southeast end of Main Street. The Texas Mercantile, owned and operated by Violet John, was totally destroyed. The fire started about 4:15 a.m. May 13th and was under control in about 3 hours. Nine different fire departments helped in bringing the fire under control. Four firemen were injured, but none seemed to sustain serious injuries. The fire was confined to the one building, and the damage to the surrounding buildings was held to a minimum. Pictures depict action of the firefighters at the scene, and the damage before the large fire could be brought under control.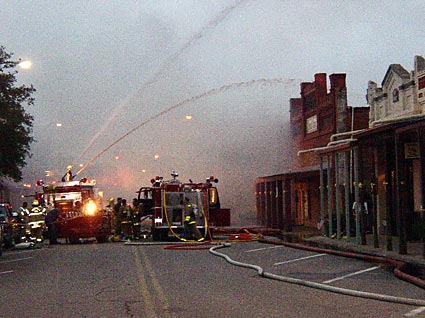 Photo by David Kahan
Photo by David Kahan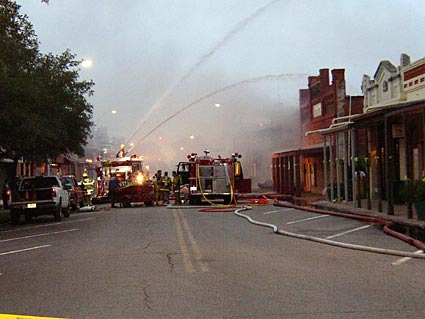 Photo by David Kahan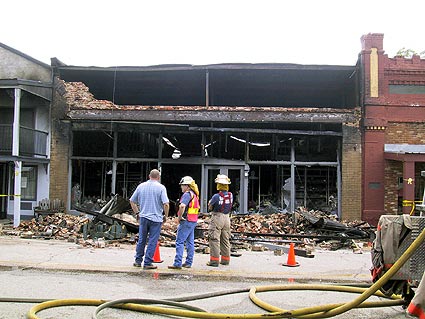 Photo by Neil Gurwitz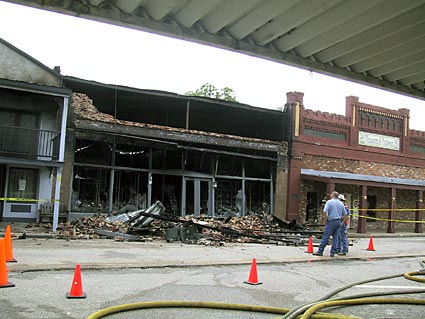 Photo by Neil Gurwitz
Return to the Home Page
I invite your comments and suggestions! E-mail: neil@bastroptexas.net.
Bastrop High School Class Reunions
The Community | Site Search | Meet Neil Gurwitz | Community Calendar
Photo Tours | Comments/Questions | Mailing List | Links | Home
Web hosting, design, and database development by Eager Web Services, LLC
Copyright © 1999-2007 Bastrop Texas Network. All rights reserved.