The Flood of November 2004
Page 1 | Page 2
On November 23, 2004 the Colorado River flooded after heavy rains throughout Central Texas. The Colorado River rose and crested at Bastrop at a level of 31.58+ feet--8 feet above flood stage. Sitting high above the river, the city of Bastrop received little damage; however, Fisherman's Park and the Riverwalk were flooded overnight. Since Fisherman's Park and the Riverwalk are adjacent to the river, both were built to withstand flooding. Pictures show the flood mid afternoon on November 23, 2004.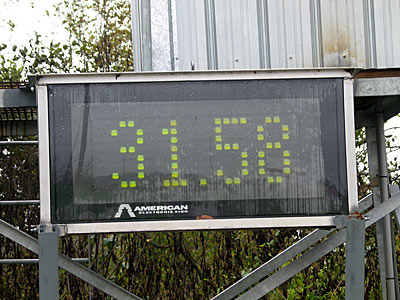 The Colorado River rises to 31.58 feet at 10 a.m. November 23rd.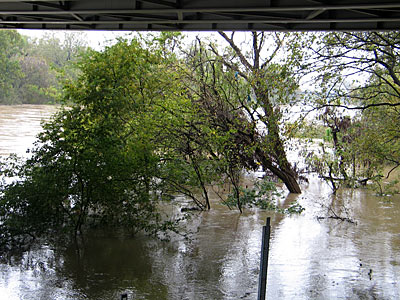 View of flood under Highway 71 bridge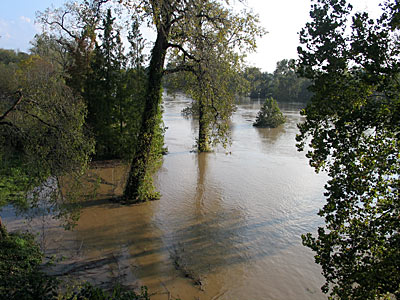 Looking southeast from the Old Iron Bridge over the Colorado River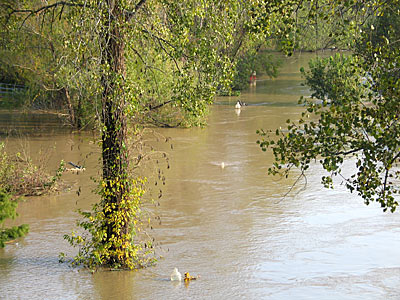 Scene at the Riverwalk--note the tops of the light poles.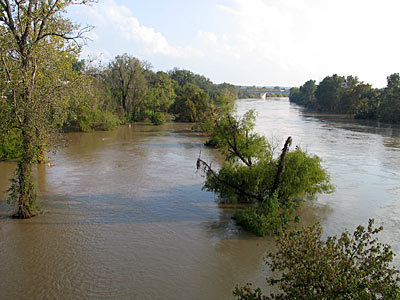 Row of Trees at the edge of the River Walk.
Page 1 | Page 2
Return to the Photo Tours Page
I invite your comments and suggestions! E-mail: neil@bastroptexas.net.
Bastrop High School Class Reunions
The Community | Site Search | Meet Neil Gurwitz | Community Calendar
Photo Tours | Comments/Questions | Mailing List | Links | Home
Web hosting, design, and database development by Eager Web Services, LLC
Copyright © 1999-2007 Bastrop Texas Network. All rights reserved.