First National Bank - Bastrop, Texas
The First National Bank of Bastrop, which is the oldest and largest independent financial institution in Bastrop County, had its Open House at its new home at 489 Highway 71 West on Sunday, March 19, 2006. The new headquarters has a magnificent Bastrop History Mural painted by Lee Jamison. It is divided into three Mural panels: the left panel covers Bastrop's early history; the Center panel covers Bastrop's early settlement to the present; and the right panel covers Bastrop's hopeful future.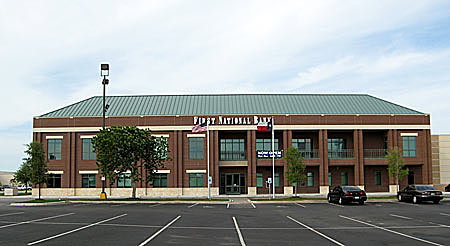 View of the new headquarters of the First National Bank of Bastrop.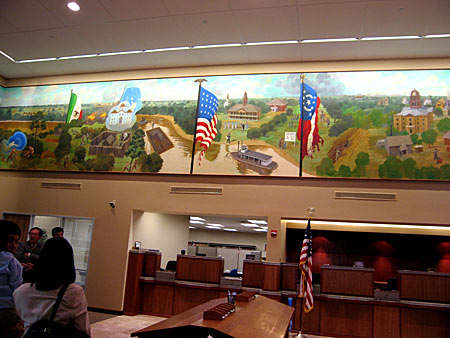 As you enter the First National Bank Lobby, you will see a view of the bank teller
department and a partial view of the central panel of the Bastrop History Mural.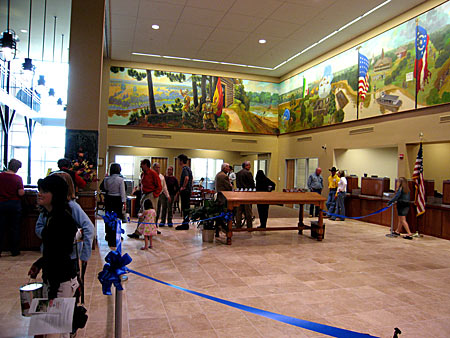 A part of the very large crowd that came for the open house. The left
panel and a portion of the central panel of the Mural is shown.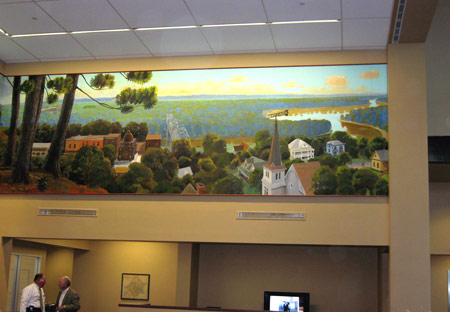 A view to the right shows the right panel of the History Mural
by Lee Jamison, and below a portion of the right lobby.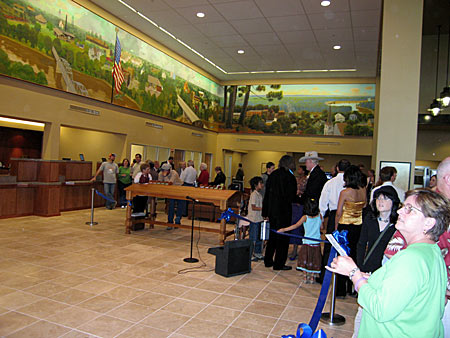 Looking to the right we see another view of the center and right mural panels.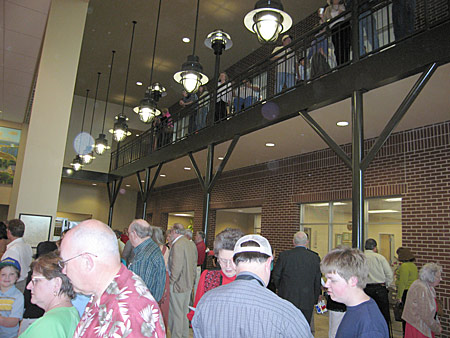 The 2nd floor offices and Community Room of the bank's new headquarters.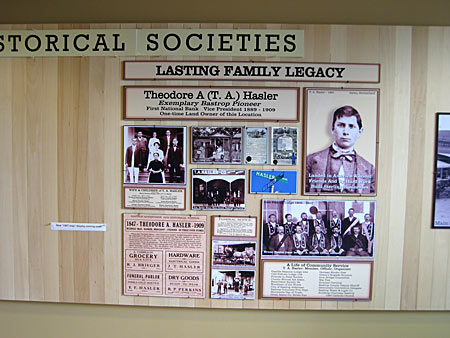 As you enter the first lobby of the bank, the Historical Societies of Bastrop
County have provided information on the early history of our county.
Return to the Photo Tours Page
I invite your comments and suggestions! E-mail: neil@bastroptexas.net.
Bastrop High School Class Reunions
The Community | Site Search | Meet Neil Gurwitz | Community Calendar
Photo Tours | Comments/Questions | Mailing List | Links | Home
Web hosting, design, and database development by Eager Web Services, LLC
Copyright © 1999-2007 Bastrop Texas Network. All rights reserved.