Bastrop Reunions
View current Bastrop High School class reunions.
If you are planning a Bastrop High School Reunion and want
it included on the BastropTexas.net Web site, click here.
For information about Homecoming, Reunions, Parade, Rodeos and Dances, visit: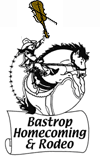 www.bastrophomecoming.org
Bastrop High School Class Reunions
The Community | Site Search | Meet Neil Gurwitz | Community Calendar
Photo Tours | Comments/Questions | Mailing List | Links | Home
Web hosting, design, and database development by Eager Web Services, LLC
Copyright © 1999-2007 Bastrop Texas Network. All rights reserved.