Bastrop Arbor Day Ceremony - April 26 2002
The idea for Arbor Day originally came from Nebraska. A visit to Nebraska today wouldn't disclose that the state was once a treeless plain. Yet it was the lack of trees there that led to the founding of Arbor Day in the 1800s. Among pioneers moving into the Nebraska Territory in 1854 was J. Sterling Morton from Detroit. He and his wife were lovers of nature, and the home they established in Nebraska was quickly planted with trees, shrubs and flowers. On January 4, 1872, Morton first proposed a tree-planting holiday to be called "Arbor Day" at a meeting of the State Board of Agriculture. The date was set for April 10, 1872. Prizes were offered to counties and individuals for planting properly the largest number of trees on that day. It was estimated that more than one million trees were planted in Nebraska on the first Arbor Day.
During the 1870s, other states passed legislation to observe Arbor Day, and the tradition began in schools nationwide in 1882.
Today the most common date for the state observances is the last Friday in April, and several U.S. presidents have proclaimed a national Arbor Day on that date. But a number of state Arbor Days are at other times to coincide with the best tree planting weather, from January and February in the south to May in the far north. From The National Arbor Day Foundation.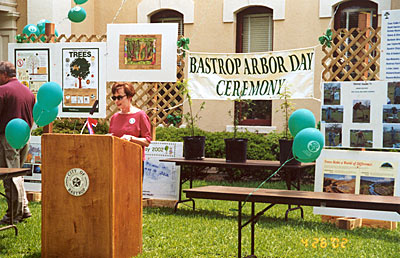 Nancy Scott, wife of Mayor Tom Scott, gives welcoming at Arbor Day Ceremony.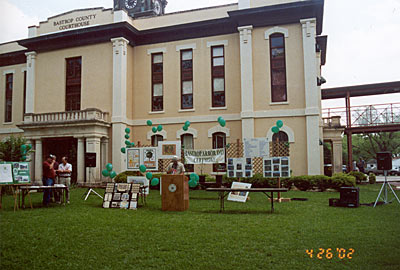 Ceremony held on the Bastrop County Courthouse Lawn.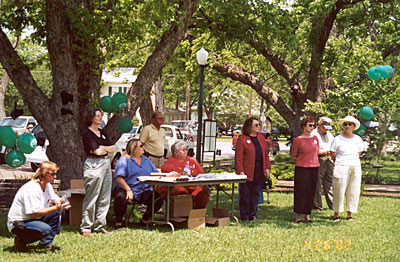 Pine Seedlings as well as brochures and other information were distributed.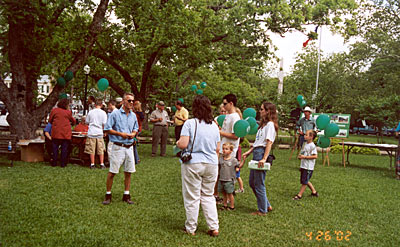 Some of the crowd enjoying the activities.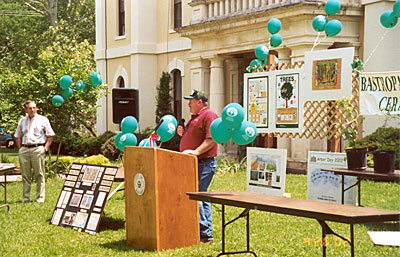 Director of Public Works Department Monty Blackmon discusses tree planting projects and thanks varying volunteer groups for participating.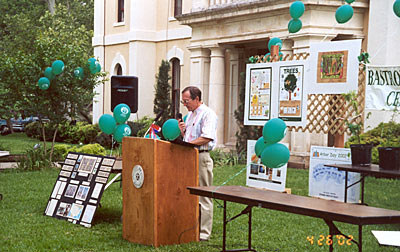 Council Member Terry Sanders reads Proclamation declaring April 26 the 2nd Annual Arbor Day Celebration in Bastrop.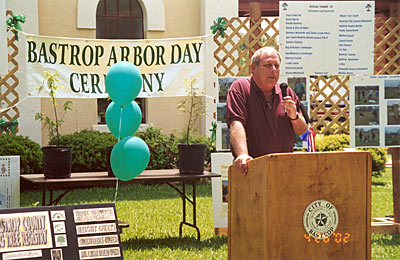 City Manager Jeff Holberg again thanks participants and volunteers in undertaking the many tree planting activities which include planting an urban orchard of more than 40 fruit trees at the Bob Bryant Park, planting cypress trees along the Colorado River Walk, and the upcoming planting of crepe myrtles, live oaks, and red oaks along Loop 150 from the west end of the Old Iron Bridge to Texas 71.
Bastrop High School Class Reunions
The Community | Site Search | Meet Neil Gurwitz | Community Calendar
Photo Tours | Comments/Questions | Mailing List | Links | Home
Web hosting, design, and database development by Eager Web Services, LLC
Copyright © 1999-2007 Bastrop Texas Network. All rights reserved.