>
February 27, 2018 -
Alton, IL is the winner in the Small Business Revolution. Congratulations to Bastrop for tits fine showing and its being chosen as one of the 5 best small cities in the country!
February 13, 2018 - This morning, Bastrop was named one of the top 5 communities in the nation selected for season three of the original television series Small Business Revolution - Main Street, sponsored by Deluxe Corporation. The competition is now in its last phase – the public vote. The winning city will receive a $500,000 small business revitalization. Last year, over one million votes were cast. As the only Texas city selected from thousands of nominations, Bastrop is asking for support from every Texan. The voting process is simple. Anyone with an email address can vote once per day from Feb. 13 to Feb. 20 on smallbusinessrevolution.org.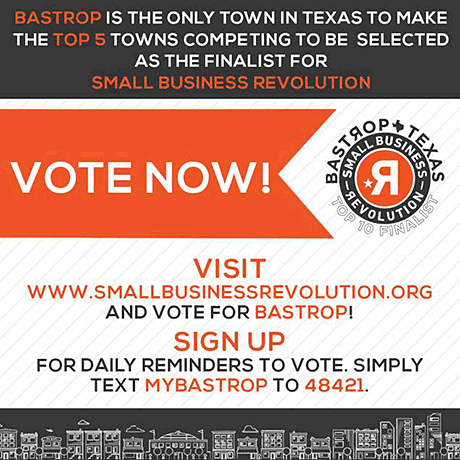 February 2. 2018 - The UIL has announced new 2018-20 school districts. For football: District 13 Class 5A Div2: Bastrop, Cedar Creek, Elgin, Eastview, Marble Falls, Pflugerville Weiss, Leander Glenn and Brenham. For basketball and other sports: Class 5A District 18:Bastrop, Cedar Creek, East View, Elgin Georgetown, Hutto, and Manor.
February 2, 2018 - Bastrop County Burn Ban has now been lifted!
January 1, 2018 - Happy New Year 2018!
September 8-9,2017 - This weekend highlighted two of Bastrop's major assets--the Museum and Art Center. On Friday evening, we were pleased to visit the Bastrop County Historical Museum for a special exhibit marking the 120th anniversary of the Bastrop Ladies Reading Circle, the oldest reading club in the state. Then on Saturday evening, we attended the grand opening of the Lost Pines Art Center. What wonderful occasions! Both the Bastrop County Historical Museum and the Lost Pines Art Center are jewels of our community. Be sure to visit if you haven't recently.
September 2, 2017 - View the 2017 Bastrop Bear football schedule and results.